I won't be posting for the next two or three days because I am going sailing and there ain't internet on the yacht. I just thought I'd leave you guys with a little nautical post (if someone tells you it's out, tell them "It's very 'in' in New Zealand right now!"). Please note that I am not actually planning on wearing (or taking) any of these things sailing.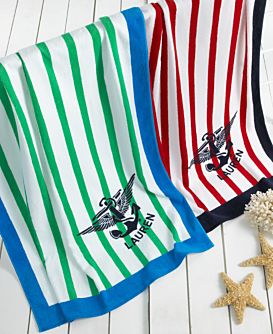 On the left we have this extremely-cute-but-also-tacky
Fred Flare
top that usually costs $32 but is on sail (hehe) for $4.99 and on the right we have towels (Lauren by Ralph Lauren) at
Macy's
for $30 each.
The bags are both Burberry. They are both $810 from
Saks Fifth Avenue
.
These would be perfect for carrying my clothes on the boat or just carrying sports gear around school.
Hope you all have a fantastic new year's (and don't party too hard) and I'll see you all in 2007.